Treatment Recommendations with HANS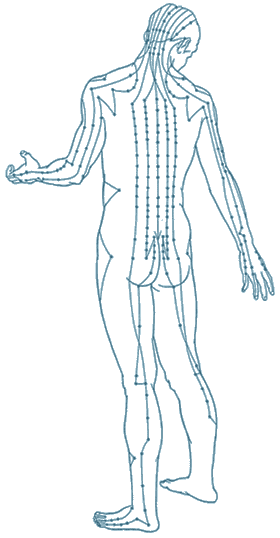 HANS has been used as a standard TEAS device for numerous research studies. In addition to treating pain and addictions, recent clinical trials demonstrated efficacy in treating autism, infertility, insomnia, and depression.
HANS can be incorporated into daily life to provide natural therapy known to be safe and sustainable for health maintenance and disease prevention.
Pain and Addiction
Pain is a major symptom in many medical conditions, significantly interfering with a person's quality of life. An acute pain may become intractable and develop into a chronic pain in which pain is no longer considered a symptom but an illness by itself. Repeated use of narcotic often leads to the development of drug addiction which is a complex and protracted health problem.
HANS treatment helps to fight pain and addiction by inducing the production and release of the body's own painkillers such as endorphins.
To treat pain, place one pair of electrodes on the area with pain (the "Ah Shi" point, meaning "Ouch"), and the other pair on selected acupoints. For different pain disorders or drug addiction, specific acupoints, frequencies, intensities, and treatment intervals are recommended.
Insomnia and Depression
About one in three people suffer from insomnia of some form. Difficulty falling asleep at the beginning of the night is often associated with stress or anxiety disorders. Waking during the middle of the night and difficulty maintaining sleep is often associated with medical conditions such as pain disorder. Early morning waking is often a characteristic of clinical depression.
Simple, effective and free of side effect, acupuncture is commonly used in treating insomnia. However, it is important to understand the root cause for insomnia before using HANS to treat the problem. To treat insomnia due to anxiety or depression, a low-frequency stimulation is recommended. A treatment interval of twice a week helps reduce anxiety and improve sleeping. For insomnia caused by pain, please refer to Pain and Addiction.
Autism
Autism is a brain development disorder characterized by impaired social interaction, communication, and restricted and repetitive behavior. Autism involves many parts of the brain. How it occurs is not well understood.
A recently published clinical trial [Zhang et al. 2012] indicates that after a 12-week treatment with HANS, autistic children of certain types (i.e. passive and aloof behavior) showed significant improvement over the control group. The changes observed in these children include improved communication, lowered anxiety and better control of emotions. Certain biochemical change was also detected in the HANS treated group. Most interestingly, such biological change paralleled with behavioral improvements.
Treatment with regular 30-minute sessions per day for 2-3 months seems necessary to gain efficacy. Younger patients seem to respond to the HANS treatment better than the older patients.
During the clinical study, most children accepted the treatment. In fact, after the treatment routine was established, some even asked their caregivers for it. The side effects of HANS therapy for autism are yet to be identified.
Infertility
Acupuncture treatment of female infertility has a long history in China. The mechanisms of effect have been purported to be the modulation of the autonomic nervous and neuroendocrine systems, and increased local blood supply to the ovaries.
To improve the internal neuroendocrine balance and local blood supply, we recommend low frequency stimulation to certain acupoints. In order for the therapy to be more effective, we recommend applying HANS® treatment daily for 12 weeks, only stopping the treatment during menstruation. HANS® treatment also helps to increase the success rate for women undergoing embryo transfer.